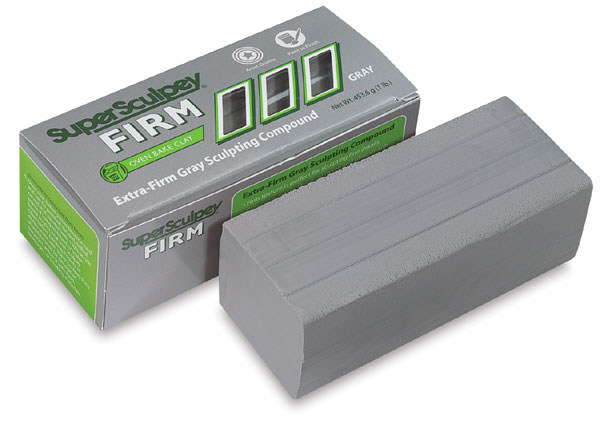 My previous sculpey experience was lack luster. I hated the stuff. It was super hard and you had to kneed it for a few minutes to get it to be work able. After that the biggest let down for its use in 40k was that it shrank. I just started using green stuff after that and never looked back...until now.
Lately I've been on a Les kick from over at Awesomepaintjob.com and following him like he's the messiah. I already used most of his recommended products but then I heard him mention sculpey in one of the videos and I took him down a peg or two. Then I remembered he is my personal lord and savior so I went to micheal's and picked up a one pound block for $14.40.
My review will compare green stuff to sculpey firm. It will address cost, workability, quality, and a general opinion at the end.
Cost- Much cheaper than green stuff. Its not something you can compare costs to very easily considering green stuff can do two jobs and sculpey only one, but overall, your 1lb block is cheaper and should last you a really long time. Plus, when you take too much, its not wasted like Green Stuff.
Workability- Surprisingly this stuff is workable right off the block. Its really soft compared to sculpey of old. I just pinch off a bit and start making whatever I need. Aside from that its awesome because its not an epoxy, so as mentioned before, you don't need to get close on your estimate and you don't need to work the two parts together. The stuff comes in a card stock paper box and I assume won't dry out considering I pulled it off the shelf and it wasn't wrapped in any sort of plastic.
The major difference between Sculpey and GS is that GS can be used on models and it'll set up on its own. So therefor I would say it has a larger range of roles it can fill whereas Sculpey can only be used to sculpt bits or totally new models which GS can be used to do as well.
One of the first things I've noticed is that unlike GS, sculpey is not sticky. This is a double edged sword because to build you have to press your clay in and can't just set it on top like with GS. Also, its harder to do molds because you can't get your sculpey out once you mold the piece. I think a combination might be great and I'm still working that out by making a mold with sculpey (since it won't stick to what I'm making a cast of) and then casting with GS. We'll see how that goes.
Quality- It does set up pretty firm but is still softer than GS. I carved on some that I baked and I say it is about as resistant to cutting and carving as resin is. It's hard to cut a baked piece in half without one of the halves crumbling.
Overall the detail is just the same with either. Sculpey is easier to carve on after it's set than GS, you just have to be really careful since it'll crumble.
Opinion- I feel like sculpey is a great addition to my paint box. If I need to make something like a banner or a base really quick I just scuplt it up, throw it in the oven and I have it in 15 minutes versus a day later like with GS. Sculpey shouldn't replace your Green stuff, but should get a home right next to it. The things that attract me to it the most are that its cheap, its fast and there isn't any waste.
So give it a try, its not a total loss if you hate the stuff, you're only out 15$ and you'll have a block of oven bake clay just in case you need to Macgyver something.
Please feel free to post comments and questions including your personal experience with Super Sculpey Firm!!